If you're a member of FourteenFish and part of the Pallant Community, what better way to get organised for the year ahead than to download the updated Learning Diary App...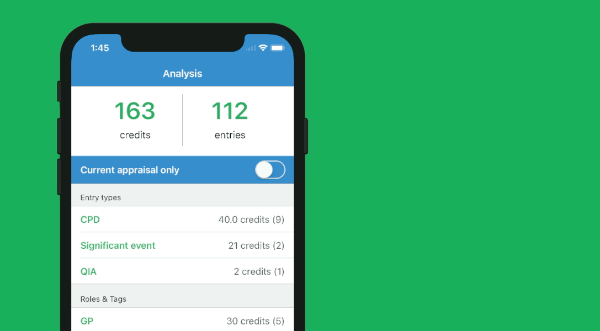 A great update to our Learning Diary app
We wanted to let you know about an important new update to our Learning Diary app for iPhone and iPad.
You can now easily see which entries relate to your current appraisal, as well as see how many credits you have so far for the current appraisal year. This is one of the most common feature requests we get for the app, and we will be updating the Android app shortly.

How it works
For most people, you don't need to do anything to activate the appraisal filtering. The app will update automatically and get your appraisal dates from the FourteenFish appraisal toolkit. The appropriate date filtering will then be applied to your entries.
How to set your appraisal dates
Log in to your FourteenFish account on the app if you haven't done so already. Do this by going to the Settings screen on the app.
Go to the Appraisal Toolkit on the FourteenFish website and set the dates for your current appraisal.
Open up the app again and check the Settings screen which will now show your appraisal dates, like in the screenshot below.
If the Settings screen looks very different to this, that means you don't have the latest version of the app installed. Go to the App Store app on your iPhone or iPad and check the Updates screen to update it manually.